1st Hour: 9:30 – 10:45 am
2nd Hour: 11:00 am – 12:15 pm
Small Groups *available for students attending both services only.
Faithville Classrooms Upstairs
Preschool
1st Hour: 9:30 – 10:45 am
2nd Hour: 11:00 am – 12:15 pm
Nursing Area located in the Women's restroom first floor lobby.
Cry Room located first floor of the auditorium on the left side as you enter.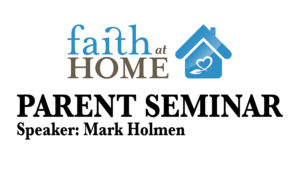 September 25 | 6:30 pm | Faithville Auditorium
Faith At Home Ministries is a nonprofit ministry based in Crosslake, Minnesota. Their mission is to partner with churches, parents and grandparents to establish the home as the primary place where faith is lived and nurtured. Join us for this special seminar, focusing on building strong families. Childcare available for children birth – 1st grade.