All students 6-8th Grade meet in The Loft (2nd level of OCC) to hang out for a bit before splitting off into boy's and girl's groups. During this time students will get to connect with other students to talk about God, the Word, and whats going on in their lives.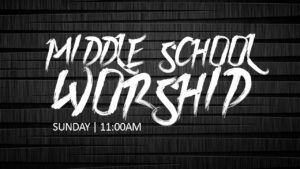 The Commons (wc 1st floor)
During this time we play games, worship with the band, and talk about Jesus. This is a great opportunity for new students to see what Okolona Student Ministry is all about.
This is a retreat geared towards engaging middle schoolers in Christ. The trip is $35 per student. We encourage students to invite their friends to come! Transportation will be provided by OCC.
Pack List:
Bible, Notebook, Pen, Sleeping Bag, Pillow, PJs, Change of Clothes, Toiletries
*Just for fun, during this trip we will be giving each student the opportunity to go off a Zipline! If you are willing to let your student join in on the fun please download and complete a
ZIPLINE WAIVER.
You can turn it in below with their registration or turn it in to the church office with attention to Brooke Montgomery.
**If your student does not have a medical release on file please download a
for, complete it, and turn it in either below with their registration or in to the church office with attention Brooke Montgomery.