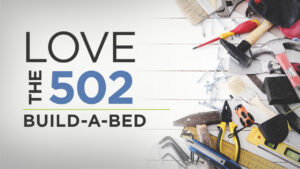 BUILD-A-BED
Did you know that over 3,000 children in Jefferson County are sleeping without a bed? Okolona Christian Church and Sleep in Heavenly Peace are teaming up to build beds! Join us for this incredible event where we will be sanding, drilling, assembling, and shipping as many beds as we can build! Children 12 years and older are welcome to participate with a legal guardian. Donations to help with the build can be made below or at the Next Steps Counter in the lobby. Together we will make sure no kid sleeps on the floor in our town!
LOVE the 502
Community Schools Back-to-School Bash
Blue Lick Elementary School & Knight Middle School
OCC is partnering with Blue Lick Elementary School and Knight Middle School for a Back-To-School Bash. Approximately 500 students will come to meet their teacher, tour the school, receive school supplies, and enjoy all the fun outside. We need 30 volunteers to assist with games and food booths. Come and help serve our community!
Please Note: Your attendance and participation in Okolona Christian Church services and events is an acknowledgment of your consent and permission for Okolona Christian Church to use your likeness and/or voice on a perpetual irrevocable basis in all media including, but not limited to, websites, print, cable, and broadcast media. You understand that third parties accessing web pages can download your likeness and/or voice, and you release Okolona Christian Church from any liability to you, your heirs, or your assigns in connection with or arising out of such downloading by third parties.
Jonathan Colbert
Gale Etherton