WELCOME
Welcome to Okolona Christian Church. We are glad you are worshiping with us today on campus or online!
Sunday, May 30 | 9:30 am & 11:00 am
Join us on campus or online for our next teaching opportunity, Worth It. We make an estimated 35,000 conscious decisions every single day! In addition, every one of these decisions is a value proposition. We are constantly evaluating between our choices on which option is truly worth making. Is this worth the time? Is it worth the effort? Is it worth the money? Big or small, the decisions you have to make today will display what you value most. On this memorial weekend and in view of those who gave their lives based on what was worth dying for, we wrestle with what God tells us is worth living for.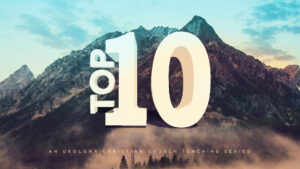 June 6 – August 8
On Sunday, June 6, we will begin the next teaching series, Top 10. Most of us have heard the Ten Commandments…or at least heard of them. But do we know them? And do we need to? Are they still relevant today? Are we still bound to obey them? As we explore God's Top 10 we will discover that the Ten Commandments reveal much more than a list of do's and don'ts — they reveal the heart of God for all people, for all times. Join us this summer for Top 10 as we learn how each commandment is an expression of God's love for every one of us.
Check Out These Opportunities!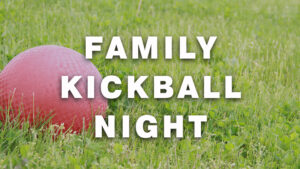 Family Kickball Night
Families of all ages are invited to come for a night of friendly kickball. Invite your neighbors and friends, there will be endless fun for all generations.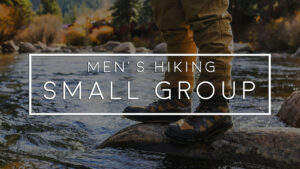 Men's Hiking Small Group
Saturday, June 5
8:30 – 10:30 am
Do you enjoy a good hike and talking about Jesus? If so, join us as we hike and talk about Jesus on some local trails. This small group will be led by experienced hikers and is open to all ability levels. Locations are based on condition of the hiking trails. All men high school age and older are welcome!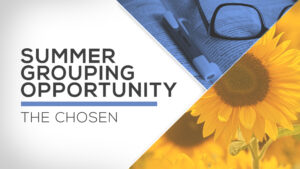 Summer Grouping Opportunity
The Chosen Study
Join us for The Chosen, an eight-week small group opportunity. The Chosen is a drama series about Jesus Christ. Together we will view the first season which introduces Jesus and the calling of his initial disciples. Each week we will watch an episode then break off into group discussions. Childcare will be available with activities for kids. We understand with summer schedules that you may be unable to attend all sessions and that is ok. Everyone is welcome.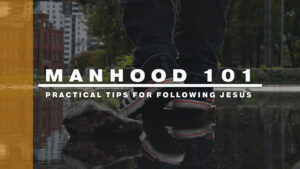 Manhood 101
Saturday, June 19
7:00 – 9:00 am
Hey guys, let's connect over breakfast! This monthly breakfast is to help equip men to find and follow Jesus. Who do you know that needs or wants to connect with men seeking after God? Invite them to come — your invitation may be the catalyst they need in their spiritual journey. All men high school age and older are welcome!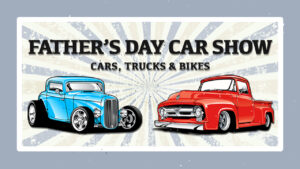 Father's Day Car Show
Saturday, June 19
9:00 am – 4:00 pm
Join us for our first Father's Day Car Show. Invite your dad, family, friends and neighbors to spend the day at OCC looking at the most amazing cars, trucks and bikes. Enjoy music, games and bring your appetite as there will be food trucks. Don't miss these spectacular vehicles, there will be something for everyone to enjoy! For more information about participating or attending click the button below.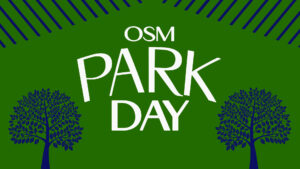 OSM Park Day
Thursday, June 24
3:00 – 4:00 pm
OSM Park Day will be a fun afternoon for all middle and high school students to come and hang out at Broad Run Park while enjoying some summer fun. We will have outdoor games everyone can participate in. Invite your friends and we will see you at the park!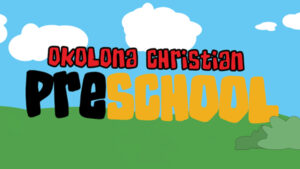 Okolona Christian Preschool
Okolona Christian Preschool is now accepting registrations for 2021-22 school year — for children ages 3 and 4 by August 1, 2021.
Please see the schedule below for Kids and Students. We look forward to seeing you and your children!
KIDS
Nursery, Preschool & Elementary
11:00 am | Children's Center
Attending on campus? Due to limited space, weekly reservations are required by Wednesday each week.
Worshipping online? Check out Kids Online for weekly Bible Lessons and Worship.
STUDENTS
Middle School Worship
11:00 am | The Commons
High School Pursuit Class
11:00 am | The Loft
High School Worship
6:00 pm | The Commons