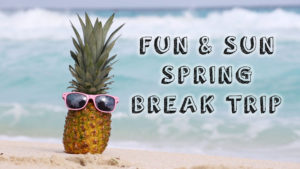 Sunday, March 31 – Friday, April 5
This is a great opportunity for students to focus on God, worship, and fellowship with one another in Panama City, FL.
Registrations are currently closed.
What to Bring:
Each student will be allowed one (1) bag/suitcase and a backpack. No need for fancy clothes or anything special. Please try not to overpack as we are limited on space.
Bible, notebook, and pen

Clothing for 5 full days

Please pack new underwear for each day)

Bathing suit* and beach towel

Girls cover tummy (one piece or tankini)

Toiletries and bath towel

Bedding/Sleeping Bag and Pillow

Sunglasses, hats, etc.

SUNSCREEN!!!!

Footwear for beach

Shower Shoes (recommended)

Flashlight (optional)

Money for souvenirs (optional)

Gift Shop & Ice Cream Shop on campus and we are planning an optional outlet mall trip.

Money for 4 fast food meals.