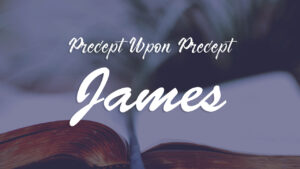 Precept Upon Precept | James
Precept Upon Precept |
$25.50
Join us for Precept Upon Precept ONLINE with two study options. Select Precept Upon Precept Online or In & Out Online.
What is true faith? How should you live the Christian life? Each verse of this practical study is alive with instructions, admonition, and encouragement. Learn God's principles for dealing with trials, temptations, the tongue and the pull of the world.
Want to go deeper, but not ready for Precept Upon Precept? In & Out is a streamlined approach to the same material but requires fewer hours of study time, approximately 30 minutes a lesson.