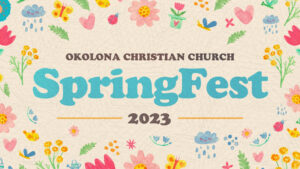 Sunday, March 26
12:30 – 2:30 pm
OCC Campus
We are excited to host our annual SpringFest. Come out and enjoy an afternoon of fun for the whole family, with activities such as food, music, egg hunt and more! Invite your family and friends — just stop by the lobby to pick an invitation. Grab your basket for some Easter fun!
Pick up an invitation in the lobby to share with your friends.
Would you like to help with SpringFest? Click below to check out all the serving opportunities.
Sunday Parking
Due to SpringFest this Sunday, the North Parking Lot will be blocked off. The north side of the campus will be reserved for the event. To ensure space for our guests, please consider these parking options.
The East Overflow Lot, on the east side of the campus.

The West Lot, on the Preston Highway side of the campus.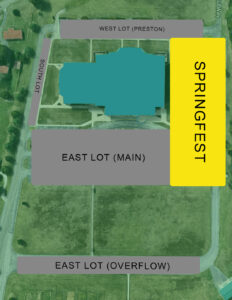 Thank you in advance for being a good host and freeing up parking spaces, in the East Lot (Main), for our guests.
Frequently Asked Questions
We will have food. Please bring money for food purchase. Prices will vary.
Does an adult need to attend with children?
Yes, children must be accompanied by adult.
Candy donations are welcome beginning February 19! Please place candy in the collection containers located in the Children's Center by Sunday, March 19.

Consider helping the Food Pantry by purchasing items from the list. Place donations in the collection container at SpringFest.

Thank you in advance for your generosity!