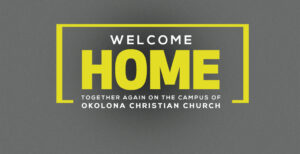 Welcome Home
Questions and Answers for Regathering at Okolona Christian Church
What time will services be?
Sundays at 9:30 am and 11:00 am.
Will there be Kids and/or Student Programming?
Yes, we have children and student programming at 11:00 am. If you have a child in Elementary school or younger, reservations are required. Middle School Worship begins at 11:00 am in The Commons, High School Worship is on Sunday evenings starting at 6:00 pm. Check out our Children and Student Ministry pages to get more details.
What should I expect when I enter the building?
First and foremost, we want you to feel welcome and safe. We'll have greeters holding the doors open at Doors 1 and 2. You will be able to move through the lobby freely, but we ask that you not gather in groups. We have removed and/or blocked off our seating and bistro tables for now. The Coffee Corner will also be closed. There will be plenty of hand sanitizer and face masks if you would like one.
Do I have to wear a mask?
Wearing a mask is not required. All of our volunteers will be wearing masks, but it is optional for general attenders.
Will the restrooms be open?
Yes, our main restrooms in the lobby will be open. We will limit occupancy to four people at a time. We'll have a monitor at the door and someone cleaning surfaces inside the restroom. If you are asked to wait, please be patient and follow the guidance of the monitor.
Will we be passing out anything (bulletins, communion and offering trays, etc)?
Nothing will be passed. Bulletins will be available digitally through a link we'll give you. For communion, we'll be using a disposable kit that will be given to you when you enter the auditorium. Regarding offering, we encourage you to continue doing that online. Otherwise, there will be two locked boxes in the lobby that you can put your offering in.
When you come to Main Auditorium entrance, a greeter will ask you how many you have. You will then be escorted by an usher to a row for seating. We will be using every third row to ensure plenty of distance. Once you have been seated the usher will mark three seats between you and the next group that may come to that row. The current guidelines limit our capacity to 33% which on the lower level is 261. We will use the 1st balcony as overflow is necessary.
Will services continue online?
Yes! This year has forced us to develop our capacity to push our services along with a lot of other resources online. The exciting thing is that it will now be LIVE, as in real time live. For those who will be viewing the service online, they will be doing so simultaneously with those in the room on campus. This allows us to come together an unprecedented way every single week. Moving forward we are both an in person and online church.
General Cleaning and Sanitation
Our Facilities team has worked hard to ensure that you are entering a very clean space. all surfaces will be consistency wiped down before and between services.
Hand sanitizer and face masks will be available throughout the lobby.