Prayer Room | April 3 – 7
Experience Holy Week with a focus on Prayer. The Prayer Room will be available Monday – Thursday, 9:00 am – 4:00 pm.
Easter
April 9 | 9:30 am & 11:15 am
Join us as we celebrate the event that changed everything — the resurrection of Jesus Christ. No matter who you are, what you've done or what you are facing, the resurrected Christ offers you hope and the opportunity to never be the same.
*Kids Programming is available upon reservation for Saturday, April 8. Please make your child's reservation by Sunday, April 2. Reservations are not required for Sunday, April 9.
Invite your family and friends to celebrate the resurrection of our savior, Jesus Christ. Invitations are available below. Join us on campus or online for one of three services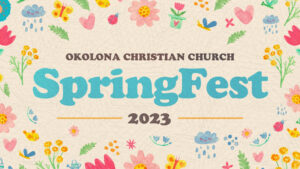 Sunday, March 26
12:30 – 2:30 pm
OCC Campus
We are excited to host our annual SpringFest. Come out and enjoy an afternoon of fun for the whole family, with activities such as food, music, egg hunt and more! Invite your family and friends — just stop by the lobby to pick an invitation. Grab your basket for some Easter fun!
Good Friday Service
April 7
7:00 pm
Kids & Students Programming Unavailable
The Good Friday Service provides an opportunity to reflect on the suffering of Jesus and the price He paid for us. You can't have the resurrection without the crucifixion. Join us for this very special night of worship and prayer.