The service will be focused on remembering what Christ did for us. All are welcome to come and honor His sacrifice.
April 4 | 9:30 am & 11:00 am
Children's Programming Available| Reservations Upon Request
Join us on this very special day as we celebrate the event that changed everything, the resurrection of Jesus Christ. no matter who you are, what you've done or what you are facing, the resurrected Christ offers you hope and the opportunity to never be the same. Upon your arrival, parking attendant will direct you to an available parking space. We look forward to worshiping with you!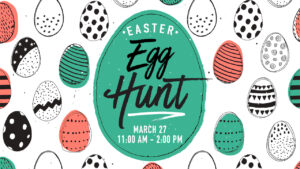 March 27 | 11:00 am – 2:00 pm
We are excited to host our annual Easter Egg Hunt for children two years old through elementary. Invite your friends and family for a fun filled day with activities such as petting zoo, food trucks, face painting and more. Grab your basket for some Easter fun!
Frequently Asked Questions
We will have food truck vendors. Please bring money for food purchase. Prices will vary.
Does an adult need to attend with children?
Yes, children must be accompanied by adult.