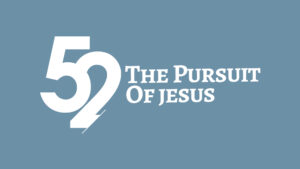 January 1, 2023
One encounter with Jesus can change your life. Imagine what spending a year with Him can do.
What if we took an entire year – all of 2023 – to not just know more about Jesus, but to actually know Jesus more? That's exactly what we plan to do at OCC in 2023. Through several different message series, we'll spend 52 weeks highlighting key moments from Jesus' life, revealing His identity, His priorities, His passions, and His ultimate purpose – all under the common theme of pursuing Jesus to know Him more.
Beginning January 1, you'll also have access to a fantastic discipleship resource to guide you in your pursuit of Jesus. I'm excited to share this resource with you, to share more details about the year ahead, and to pursue Jesus alongside you throughout the coming year.
MESSAGE: 52: The Pursuit of Jesus – Vision & Overview
SPEAKER: Fitz
DATE: January 1, 2023