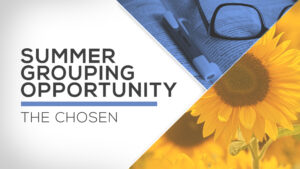 Summer Grouping Opportunity
The Chosen
June 6 – August 1
6:30 – 8:00 pm
Join us for The Chosen, an eight-week small group opportunity. The Chosen is a drama series about Jesus Christ. Together we will view the first season which introduces Jesus and the calling of his initial disciples. Each week we will watch an episode then break off into group discussions. Childcare will be available with activities for kids. We understand with summer schedules that you may be unable to attend all sessions and that is ok. Everyone is welcome.
Q & A
I am not in a small group. Can I attend?
Yes. Everyone is welcomed.
Can my small group attend this together?
Absolutely! That is highly encouraged.
What are the dates?
June 6, June 13, June 20, June 27, July 11, July 18, July 25 & August 1
Do I have to sign up?
What time can children arrive for childcare?
Parents can drop off their children from 6:00 to 6:30 pm.
Can older children attend The Chosen?
If the parent deems appropriate older children may attend with their parent.