Cradle and the Cross
Sunday Mornings | December 3 – 17
11:00 am Service – Spanish Translation Available
Join us for the teaching series Cradle and the Cross. The Christmas season is upon us, with festive songs, bright lights, and decorations in all the stores. It's a season of celebration. Celebrating that God came to be with us as a human in this world. Celebrating the story of Mary and Joseph and their baby boy born in a manger, celebrating the birth of Jesus. But the cross cast its shadow on the manger. The crying of the newborn baby boy foreshadows the suffering of the Son of God sacrificed for our sins — the pain of childbirth points to the pain of a crucified Christ. We celebrate how Jesus came to us because of how Jesus died for us. We celebrate that God came to be with us at Christmas because, at Easter, He made a way for us to be with Him forever in paradise. In our next series, the Cradle and the Cross, we'll connect the dots between these events and discover even more reasons to celebrate during this season. We look forward to worshipping with you!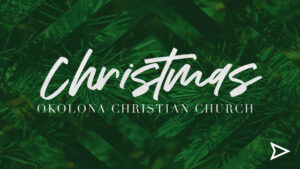 Christmas Eve Services
A Special Gathering to Celebrate the Birth of Christ
Spanish Translation Available for all services.
Saturday, December 23
4:00 pm* – Spanish Translation Available
*Child reservation requested for the Saturday 4:00 pm service – no reservation needed for Sunday services.
9:00 am | 11:00 am – Spanish Translation Available
Below is a digital invitation to share with those you love to join us for Christmas at OCC. You can share the invitation through text messages, social media, the Next Door App, or email.
Family Advent Packet
Family Advent Packet is a resource that will help your family focus on the
birth of Jesus this Advent Christmas Season! This packet includes three things you can add to your Advent Calendar: scripture, song, and service cards. Each day in Advent (December 1 – 24, plus a bonus to use on Christmas Day), your family will read a portion of the Nativity Story (scripture card), listen to (and sing if you like) a Christmas worship song (song card), and do something that serves God and others (service card).
Pick up one packet per family in the Kids Center by Door 3— supply is limited!